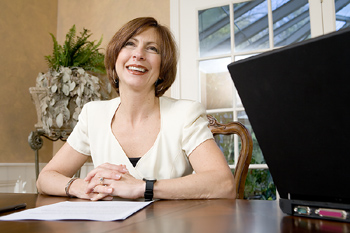 Most people will never find them.
Not because the profits aren't there – because they never set up their opportunity to become an actual business.
And if you are just working at something like "just another (part-time) J-O-B", well that is exactly what you'll get.
You might say, "Yes, but the comp plan tells me I can re-sell this as a business to anyone at any time."
Well, you can sell your contract with the company, but that's not an actual business. You still have to work for a certain amount of points or base every month to make your commissions. In other words, you are still trading time for money.
And if the company decides to change their business, or cancel your distributorship – what do you have?
That's right – Nothing. Your own downline doesn't even belong to you – and forget about getting them away from that company, you've already signed that away as well.
But in this very moment, there are some very happy people out there who are making tons more profit than their opportunity pays them for. Because they've diversified their income and have more going on that brings them additional money every week – but only communicate to the same people – their downlines and personal clients.
Sponsors who have implemented this one tactic into their Network Marketing not only increase their points and base for the company, but are making additional income from those same people meanwhile.
(Oh, I almost forgot to mention – they also find sponsors more easily…)
None of this is a trade secret. And you know the big names who have used this to build and sell actual businesses for millions – within just a few short years.
Let's take one example you have probably heard of: Mike Dillard. He struggled, was broke, even selling his furniture to get food and rent. This was when he first got into MLM. He did 6 years of this struggling until he finally got tired of it and started studying and learning what he really needed. That took him about 7 months of intense study. And 1 1/2 years later, he cracked his first million. A few years later, he could show you a tax form for the company he built – based on what he had learned – which had 8 figures of income showing.
He'll tell you (and has put this on several videos) that exact secret: You Have to Build and Maintain A List. That's right, an email list.
And that's the first step to building your actual business for yourself. And lets you be completely independent of any particular MLM. It's also that list which will bring clients along the education route so that they can eventually qualify to become sponsored.
This is why the solution so many tell their Network Marketing downlines, "Learn and use the Funded Proposal."
When you grasp the simplicity of this business model, you can see how it fits with any MLM opportunity and is easy to train new sponsors in how to succeed.
And there are many models of the funded proposal out there, but I favor people find and use the MLM RockStars version, since
1) It's free to start.
2) You can build your list by sending people here.
Of course, there is a lot more to having and building a list of clients as well as current and potential sponsors. But this is a great start.
Related Articles:
There are secrets to making money online with MLM as your home based business model. It's called the Funded Proposal and its easily ...
The failure of most MLM Network Marketing operations is that they rely on word of mouth and haven't moved into Internet Marketing. Funded ...
The one secret people should know to make their financial success a reality in Network Marketing is simple. It's found in both the oldest and modern books...
To make and keep your millions, you have to follow these 2 millionaire mentors who are sharing their own success tips and tricks. Learn from ...
The failure of most uplines to train their sponsors in how to generate leads is the quickest way to get them broke and run off. Most uplines are ...
The home-business train wreck of MLM is avoidable. You have to study getting leads (Magnetic Sponsoring) and quickly building a business ...
It's not actually hard to earn money from any MLM Network Opportunity as a home-based business - but you have to know these 3 ways to go ...
Related Links: